When we started this farm blog, we decided early on to record the good and the bad. Sure, we figured we might look a little silly when we made inevitable mistakes, but this is what farming is all about (right?). Anyhow, this weekend was definitely one of those rougher moments. But, just up front, everything is okay now. so, if you're a future CSA member, don't be alarmed. There will be vegetables this season. But it was a bit touch and go for a few days.
As I mentioned in my previous post, we got up one complete bay of the Haygrove tunnel. Well, although we're overall very impressed with the Haygrove concept and structure, we soon realized that we were not ready for what we purchased. We did not have adequate information to understand the special needs of this kind of tunnel. Haygroves need to be almost babysat in windy or rainy weather, which of course defined this weekend: April showers, yes. The tunnel scared us: it was huge (much larger than we expected); we couldn't get it to seal; we couldn't get anything else done because we were constantly trying to work with it in the wind; and we finally realized it wasn't the right product for our needs. Fortunately for us, the company we purchased it from, OBC Northwest, were very accommodating and admitted that they probably hadn't give us enough information for a thoughtful decision-making process. So, the Haygrove is going to leave. We still think we might get one in a few years (a shorter, more manageable one!!!!) when we live on the land we farm and have employees to share managing duties.
So now we're working on building different hoop houses, actually the top bows from the Haygrove. We're excited about this new design—it's going to be a blend between the Nordell's 'portahoopies' and the Haygrove concept. We'll give more updates as we build.
And now, some photos from the last week: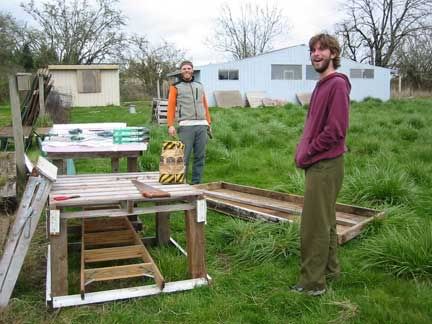 (Above) Our good friend Jonny helped us move down to Mac last week and spent an afternoon helping us construct some more rough carpentry. We built a heat table, which actually doesn't work very well (not because of Jonny—it's all our fault), but it was fun to have someone else out there with us. We hope more friends stop by throughout the season!

Even though we're not keeping our particular Haygrove we are impressed with the design and are sure people would be interested in seeing some of the process. In this first shot Francisco, Sam and Casey are drilling the side bar supports into the ground.

After getting the struts into the ground, the four of us met again at six the next morning to continue putting the Haygrove together. Here Francisco and Casey are putting the overhead bows onto the Y-pieces of the struts. It's a very beautiful design—we were reminded the whole time of a big erecter set.

Attaching the overhead supports required some seriously tall ladders.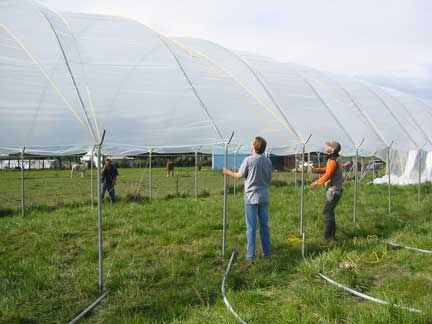 The plastic covering on a Haygrove is held tight with ropes—again, a very beautiful system that doesn't require the kind of permanent stretching one would do on a traditional greenhouse structure. Everything about the Haygrove construction was very elegant and simple.

And here's the one complete bay with plastic skin, door and one sidewall. As you can see, we were a bit overwhelmed by the scale of this tunnel. It's a behemoth. Due to our underestimation of the site, the wind whipped this thing like crazy.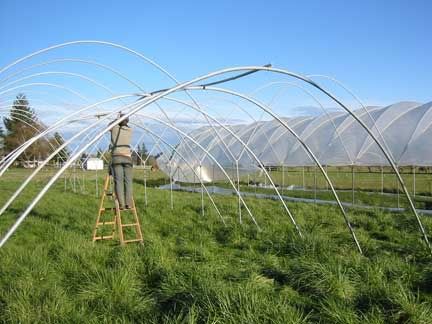 Finally, here's Casey working on our new modified, much smaller and more manageable house. We're going to use some of the leftover plastic to cover this 20×24 house. We also bought some heat mats from OBC today, which we'll use on two of the four benches we'll fit in here for plug trays. We're hoping that the seeds we sowed this weekend will survive, but they've been put through the ringer. We really haven't had the time or energy to get them adequate heat or water. We're going to re-sow most of the tomatoes, peppers, eggplants and alliums again—just in case.
So, this was probably our first big trial in farming. We're glad that we're on the other side of it now. Knowing that we don't have to deal with the Haygrove anymore is a huge relief. We're going to remove the plastic tomorrow in the still early morning. Then we can finally exhale.